[spacer height="20px"]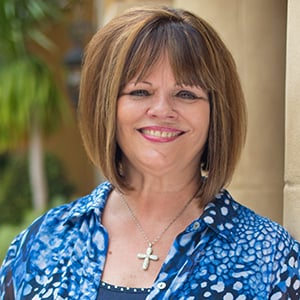 [spacer height="20px"]
     It seems appropriate that Carolyn Vaughn, the feisty, no-nonsense Corpus Christi council member from District 1, came into the world in Sumter, South Carolina, a city that bears the name of General Thomas Sumter, the "Fighting Gamecock" of the American Revolutionary War.  Her parents moved the family to Lubbock, Texas, when she was just five years old.  This wife, mother, grandmother, business owner, and devout Christian overcame her shyness and answered the call to serve her city by running for council almost two years ago.  After a hard-fought campaign, which included a run-off election, Vaughn emerged victorious and set to work trying to solve the problems of the city.
     However, serving as a council member requires that she speak publicly, something that made her more than a little uncomfortable in the beginning.  "God has taken away my fear of talking in public.  It doesn't bother me anymore.  I still don't like making a speech or something like that on the spur of the moment, but He has given me peace about it when I have to talk.  I've been shy all my life.  I was timid and hated to get up in school to talk. Even now, I don't like crowds.  I have enjoyed working on the council, but I don't like doing all the little things like going to luncheons.  That's not me.  I actually enjoy solving problems, taking the calls of the people, and trying to help.  That's what I really enjoy doing," said Vaughn in a recent interview.
     Vaughn credits her mother with teaching her about God and hard work, two things that have helped her experience success in her personal and public life.  "I had a very good mother; I really did.  She worked very hard to put food on the table.  We never went hungry.  We didn't have the greatest food in the world, but we never went hungry.  Once a week we had meat, what we called stew beef.  We had a lot of beans, but she was a great cook.  She could make a good meal out of just about anything."
     Vaughn's mother endured three difficult marriages after losing her own mother at an early age.  From the first two marriages came a total of eight children, 4 boys and 4 girls.  "My mother was a good woman, but she married three horrible men.  My dad was a very abusive man.  We were always fearful when he'd come home."
[spacer height="20px"]
[spacer height="20px"]
     The council member described the violence surrounding the evening meals that often resulted in her father knocking the food off the table, shoving her mother into a corner, and putting a butcher knife to her throat while the children fearfully looked on.  Once her older brother stepped in to defend their mother, and the father turned on him.  Vaughn's mother ran to the neighbor's house to call the police for help but had to leave her son who had muscular dystrophy in the house.  "I remember my brother just lying in the bed because he couldn't walk."
     Vaughn's father wound up in prison, and her mother married yet another abusive man.  This time, the abuse was heaped on her older sisters.  "When the fighting would start, my sisters would hide me in the closet to keep me from hearing what was going on.  They took good care of me.  There were a lot of things that happened to them that didn't happen to me.  I am so grateful that they protected me."
     "My mother worked all the time," said Vaughn.  "She worked so many hours that she couldn't do what other mothers did.  But, she made sure we were clean, had food to eat, and went to church.  Because of that, we grew up with really good morals.  We had some good people in church who took great care of us.  I think about them often and am grateful for all they did."
     Vaughn learned to work hard at an early age.  Her mother made sure everyone had chores and that the kids went to school.  Carolyn's education, however, was cut short.  "My younger brother had muscular dystrophy; that was another responsibility my mother had on her shoulders.  So, when I was in the tenth grade, I quit school to take care of him.  We didn't have anyone else, and we didn't have the money to hire someone to care of him.  I'm glad I stayed home with him because I got to have that time with him.  He died two months shy of being sixteen." Carolyn eventually earned her GED and went to college.
[spacer height="20px"]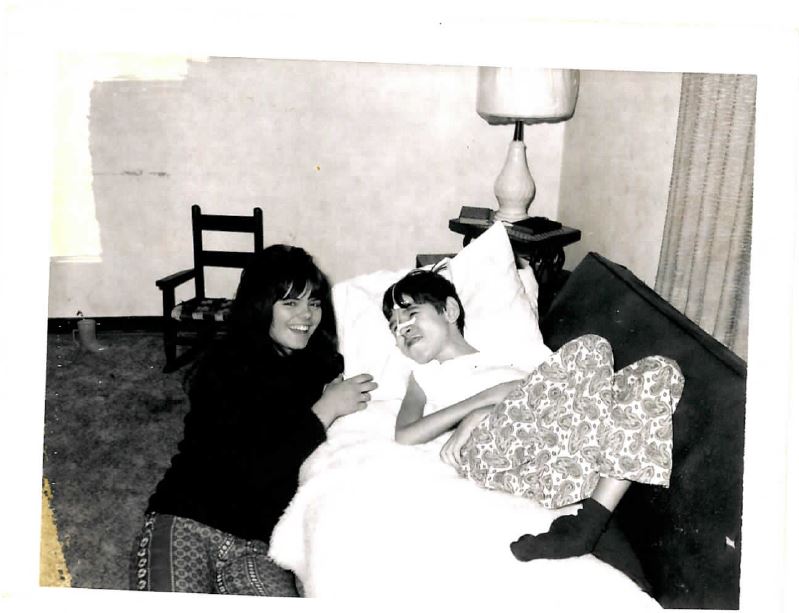 [spacer height="20px"]
     Vaughn says her work ethic stems from having to work hard as a teenager.  "We all worked.  I was a waitress when I was fifteen and even worked at der Wienerschnitzel, which I loved because it was across from Texas Tech. That was kind of fun.  All of the others, except for my younger brother, worked at Furr's Cafeteria.  I worked in the school cafeteria to earn my lunch.  I really hated those hairnets! My siblings and I all did very well because our mother taught us to work.  Growing up poor really helped me to appreciate what I have now."
     Her mother always worked to provide for her children, opting not to accept welfare.  "We got our water turned off a lot, but we made it.  What I experienced as a kid, has also given me a strong compassion for low-income children and the programs that are provided.  For example, the police sometimes take needy kids shopping.  It's a good program.  A group did that for us too when I was growing up.  Once a year we got new shoes.  They would pull me out of school, and when they took me back, I'd have those shoes on.  Everybody knew, and I hated it.  I hope that all our nonprofits and other groups who provide this type of help learn to do everything possible to do good work quietly and privately so that children who have less won't be embarrassed by the attention some get for all the good things they do in these children's lives."
"When I look back over my life, I wouldn't change a thing.  Everything that happened – even the bad things – made me who I am today.  I have good memories of having fun with my mom and my siblings.  We did things that kids today just don't do very often.  We were always outside playing games like kickball, dodge ball, Red Rover, and things like that.  I tried to play all those games with my own kids when they were growing up."
     At the age of sixteen, Vaughn met her husband, a young man who started working in the oilfield at sixteen.  She married him at seventeen and had all three of her children by the time she was twenty-one.  She and her hard-working husband moved to Mississippi, lived in Pensacola, and now own and run a very successful energy services company in Corpus Christi.  "He started his own company.  We've had several companies that we've bought and sold.  God has really blessed us.  He has blessed us because we've paid our tithes, and we have always looked to Him for direction anytime we've done anything."
     Vaughn's children, two sons and one daughter, were raised in Corpus Christi.  "I am very proud of them.  Two of them work with us, and one has his own business.  My daughter is also a former teacher who taught for several years.  We have seven grandchildren and one on the way.  Our kids and grandkids are what we value the most in life, and we have instilled in them a love of God and the value of hard work."
     When the questions turned to concerns she has about the city, Vaughn responded candidly:
"People shouldn't profit from sitting on the city council.  It was an ethics problem that needs to be resolved.  I knew there were loopholes, so I hired a lawyer out of Dallas to look at our Ethics Ordinance.  It was presented to the Ethics Commission over a year ago, and I still haven't gotten a response.  They agreed there are loopholes, so they are looking into it.  I hope to get the report back within the next few months.  I believe that things that have gone on in the past that allow a council member – or a council member's spouse – to use this position for personal profit must stop.  I want us to be so transparent that there are no questions from our citizens about if and how we profit from our votes.  They should have a calm assurance that every vote we make is a vote for what we believe is best for everyone in Corpus Christi.
"We need  zero-based budgeting, and we need to quit wasting money.  We should demand that our city manager be accountable for every tax dollar we spend and be able to explain why we need to spend that money.  This isn't the city council's money – this is taxpayer's money.  We owe it to all those people who work hard to make life better for their families, who want to build their businesses without unwarranted red tape and regulation, and who sacrifice to pay their taxes to show them why we need to use their tax dollars.
"While I am on the council, I will continue to work to cut waste, to stop raising rates on our citizens, and to save money in a rainy-day fund.  For the sake of our city's future and our children's future, we have to work together to rebuild our infrastructure, but we still need to work to cut waste, find ways to stop raising rates on the citizens, and put money in a rainy-day fund so we will have a cushion in the time of financial need," she said.
"One of my greatest desires is to help Corpus Christi find its niche.  We are not San Antonio or Austin or Boston.  We are unique, and every one of our districts is unique.  District 1 is probably the most diverse district in the city, and we have to find a way to make everyone feel they are getting their fair share of attention and improvements from the city.  There are those who feel as though we concentrate too much on Southside and the Island.  While we have to continue to help those areas grow and expand, we can't forget the needs in Districts 1, 2, and 3, as well.  It's not my district, but I get calls from voters in Flour Bluff who feel as if their needs have been forgotten by the city, and they're in District 4.  We really need to examine how we spend our available money and spread it across the city.
"As I have come to know the people in my district, I understand the need to bring workforce training to our younger people, to help small businesses thrive, and to assist industries and refineries in providing jobs and economic development to our area.  I see the benefits from downtown revitalization and the Sports*Arts*Entertainment (SEA) district for both tourists and local residents alike.  I want those same benefits to trickle over to North Beach and other areas of District 1 and the city.
"But even as we see tremendous benefits from ongoing efforts in business and infrastructure, we can't forget that we also need to focus on the poor, the senior citizens, and the veterans.  I am happy to have been a part of helping our senior centers get much-needed repairs.  I want to find a way to help the poor lift themselves up so they can be proud of who they are, where they live, and what they have.  I support programs that allow people on limited incomes to become homeowners, clean up their neighborhoods, and become taxpayers and contributors to our economy.
"And, I believe we should honor our veterans and – as a country and a people – keep the promises we have made to them.  These aren't just pie-in-the-sky ideas.  Decisions made by the city council affect everyone.  We can't just give to those with the most.  The Bible says we are to give to the least of these."
     Carolyn Vaughn may be one of the newest members on the council, but she hasn't let that hold her back.  She asks questions, digs deeply, and ferrets out the answers.  She is a woman of God who has the courage of David as she takes on the Goliath of municipal government.  She, like General Sumter, is a patriot who believes in the rights of the people and is willing to fight for their rights.  Her mother would be so proud to know what her daughter has become, a confident servant of the people who gets her direction from God.
Note:  This article is one in a series of  personal histories of local leaders.  Related articles: Chad Magill: Leading Corpus Christi in a New Direction 
                                                                                                                                                                      Margie Rose: The Story of a Southern Lady Who Became a City Manager