The Life and Times of James "Butch" Roper:  Part I
To preserve the rich history of Flour Bluff, The Paper Trail News, will run historical pieces and personal accounts about the life and times of the people who have inhabited the Encinal Peninsula. Each edition will feature the stories gleaned from interviews held with people who remember what it was like to live and work in Flour Bluff in the old days.  You won't want to miss any of these amazing stories.  These stories can be found in print in The Texas Shoreline News.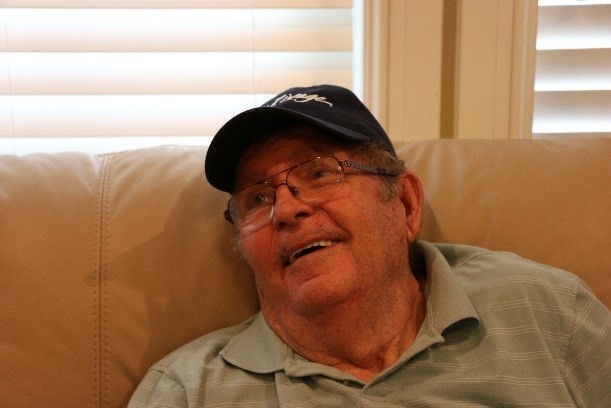 James "Butch" Roper, born October 16, 1940, is a direct descendent of George Hugo Ritter, a German immigrant who settled Flour Bluff at the start of the Ropes Boom in 1890.  Ritter's son, Erich George, born in 1893, married Myrtle Mae Watson, whose family was one of the first families in Flour Bluff, as well.  They had three children, one of whom was Alice Ritter, Butch's mother. Alice married James "Mickey" Roper and had three children:  Deanna, Butch, and Cheryl.  Butch spent his boyhood days helping his grandfather, Erich George, with the chickens, the crops, and the cattle while his father worked for Humble Oil at the refinery on Graham Road.  Butch Roper thoroughly enjoys entertaining people with his memories of what it was like growing up in Flour Bluff.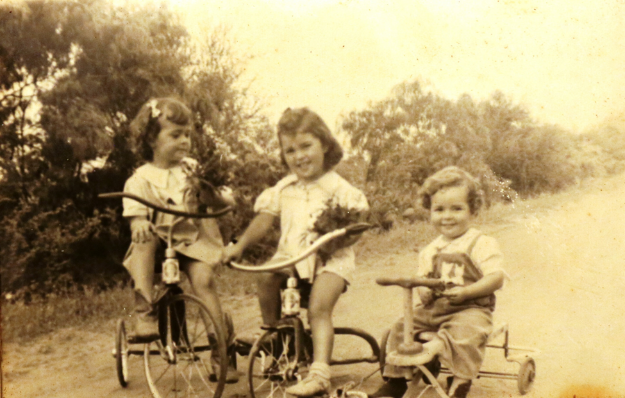 The Roper children, ca. 1940s (Photo from Butch Roper collection)
     Butch's earliest memory is of a ghost in his grandparents' house that sat on Red Lake just south of Graham Road and west of Laguna Shores Road.
     "I was coming out of the field with my grandfather.  I fell out of the truck and broke my collarbone," recalls Roper.  "Back then, they strapped you in a harness for a broken collarbone.  They put me in the upstairs room of that old two-story house.  I was scared to death!  The story was that there was a ghost in that house and that she walked the stairs at night.  There I was, a little kid strapped in that harness in a big old spooky house," said Roper.
     "To make it even scarier, it was when they used to make everybody in Flour Bluff turn all their lights out at night so the German submarines wouldn't see where we were," he said.  "Every time those old stairs would creak, I'd think that ghost was coming to get me!" Roper laughed.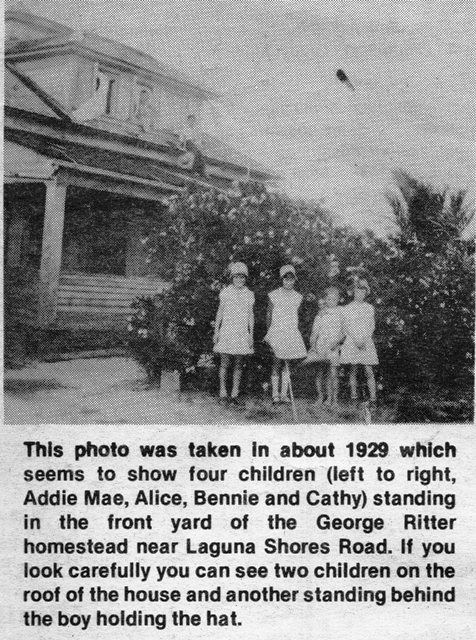 Flour Bluff Sun photo (1980s edition)
     "By the time I came along, the house was old and run down.  Originally, it was a really nice house, painted and everything.  It was built by a lady named Mrs. Shade, and she sold it to my grandfather.  Before that, they lived out where the Navy base is.  It was called the Grass Place," said Roper.  "It had giant sand dunes and lots of grass.  When the Navy came in, they ran all those people out of there.  They said they were squatters and that they didn't own the land they had been working all those years."
     According to an October 22, 1941, Caller-Times article, Roper's memory is correct.  The whole eviction process was a complicated matter, that sent the whole case to Judge James Allred's court multiple times to decide who actually owned property and who didn't.  The article states, "The sum of $229,402 remains on deposit in the registry of Federal Court here awaiting payment to land owners at Flour Bluff who were evicted when the government took over 2,050 acres in July 1940, for construction of the Naval Air Station."
     Roper told of how most people in Flour Bluff at that time either lived at the Grass Place or far down Laguna Shores where the Vannoy family lived.  "Everything else was mostly brush except where people had cleared to build their houses," said Roper.  "The Ritters owned everything from Laguna Shores to Waldron Road and from Graham to Don Patricio, which included Red Lake.  That lake was so salty that ducks never came to it."  This includes the property where the "little refinery" sits on Graham Road.
      "They had a long-term lease with Humble Oil.  Since then, the lease has changed hands two or three times," said Roper.
     "My dad worked at that refinery for 32 years.  First, we lived in the two-story Ritter home; then we moved over to the house that sat next to this one," said Roper pointing over his shoulder.  "The pilings and the well are still there.  The house came from Sandia, where we had a dairy farm.  They moved it all the way out here and put it on Waldron Road.  At that time, Waldron was just a dirt trail until the Navy came in and improved the road and named it Waldron."
     "My great grandfather had the contract to build roads in Flour Bluff.  They built them out of clay and oyster shell," Butch recalls.  "Flour Bluff Drive was not a main road.  It was the road where we'd take our girlfriends to go parking because nobody else drove it.  The Roschers lived off that road back where the windmill still stands on Roscher Road and Caribbean.  They owned all that property.  I used to go with my grandfather to get-togethers at the Roscher place.  They were German, and he was German, so they visited all the time, but I don't remember them speaking German to each other."
     "My grandfather was pretty smart man," said Roper as he explained how his grandfather was able to grow lots of vegetables in the poor Flour Bluff soil.  "He raised chickens to sell.  When he built the chicken pens, he made the floors out of wire.  When the chickens did their business, it would fall through the wire.  Then, we'd shovel up the droppings, put it in a little wagon, and take it out to the field to fertilize the crops.  It must have worked because he was a successful truck farmer."
     Roper's grandfather also ran cattle on the Encinal Peninsula.  "He leased land from people all over Flour Bluff for his cattle, the way Calvin Self does today," Roper said.  "We'd take them to auction in Robstown to sell them."
     Roper recalled how much he enjoyed being part of the Humble Camp when his dad worked at the refinery.  "My family spent a lot of time with the Humble Camp people.  It was kind of like a big family.  They had barbecues and square dances on the weekends.  The adults played Canasta or domino games like 42 and 84.  That was a grown-up thing.  The kids just played and got into a little mischief when the parents weren't watching," Roper said with a smile.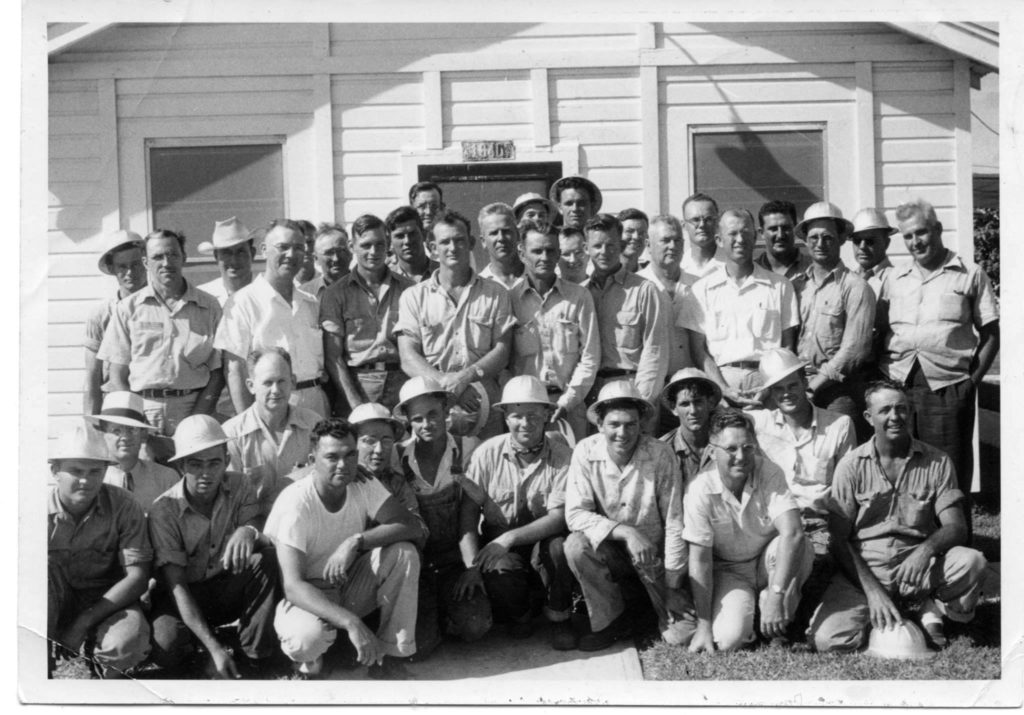 Humble Camp men (Photo courtesy of Butch Roper)
     "When we lived at Humble Camp down by the South Gate of NAS, we'd go to Hawley's Drug Store.  It sat right outside the gate," said Roper.  "When I was older, in the 1960s, a plane crashed right next to his place.  I was working part time for Moore Service on the base then fueling planes, and I had just filled that plane up.  It went up and straight back down, killing everybody in the plane when it burned up."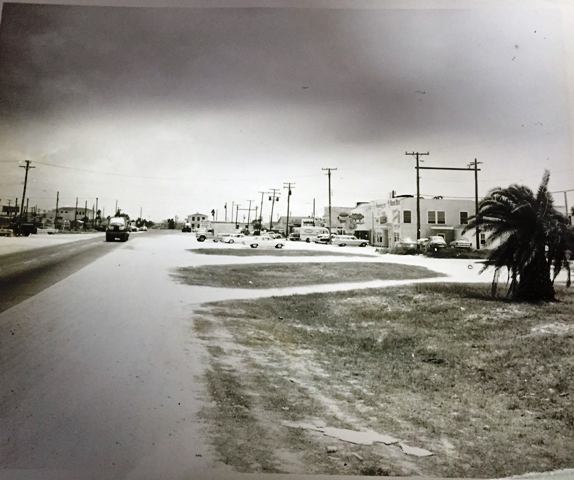 Caller-Times photo, South Gate (ca. 1950s)
      Butch started school at Flour Bluff when he was seven.  "I went to school at the old school on Waldron and Purdue.  It was just a long hall with a gym," recalls Butch.  "We started sports in that old gym.  Back then it was just reading, writing, and arithmetic.  Mr. Wranosky was the superintendent.  He was a task master.  He had the look about him that you didn't want to mess with him," he remembers.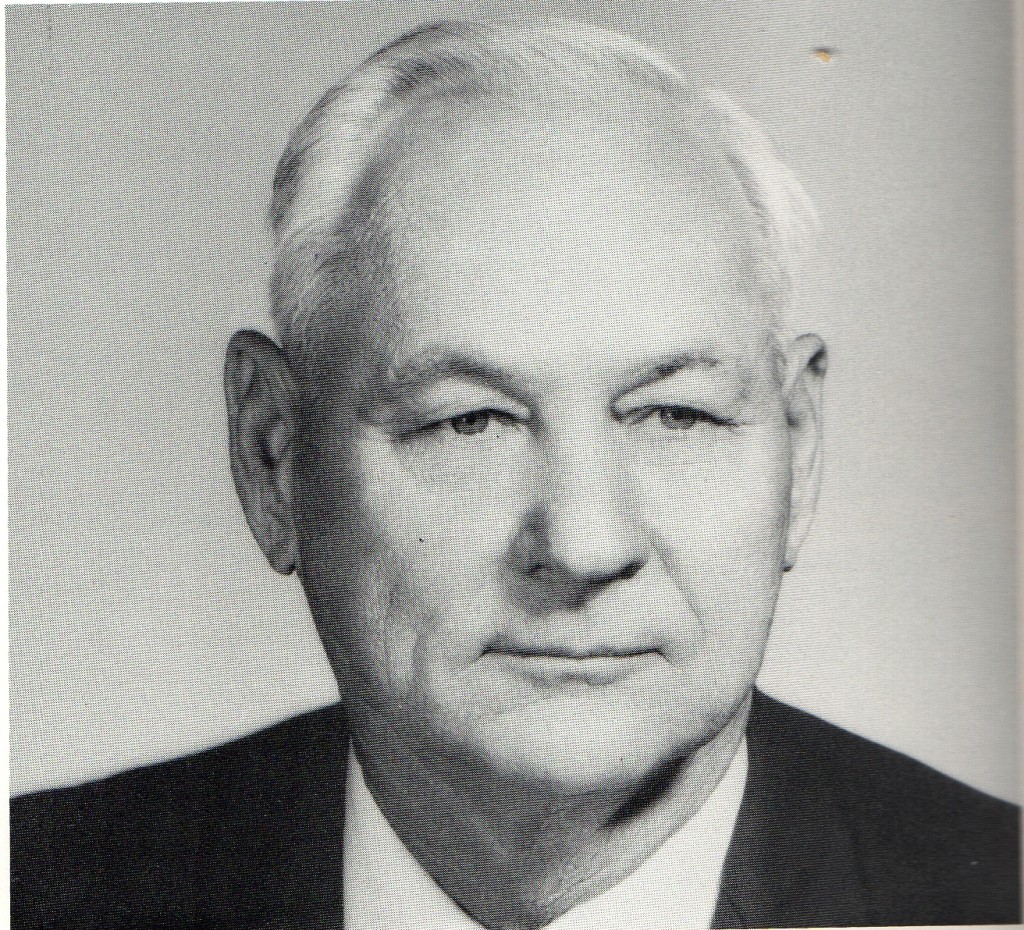 Flour Bluff Superintendent Ernest J. Wranosky (FBHS Yearbook Photo)
     "Every year he went hunting in Colorado, and that's when we started going to Ouray for our senior trip.  That was a big deal for a little flat-lander kid," said Butch with a grin.  "I was friends with his son, Bud.  We played baseball together on the first baseball team Flour Bluff ever had. My best friend, Eddie Farrias, whose dad Lee worked the causeway toll booth, was our coach.   Jim Coffman and his mom Bernie Arnold, who owned A & H Sporting Goods sponsored our team.  I remember rolling into the little surrounding towns in their company truck.  On the side it said, 'Another load of fresh bait.'  That got us a few laughs," Butch said.  "If we played in Flour Bluff, we played on the field that was on Waldron where Whataburger sits now."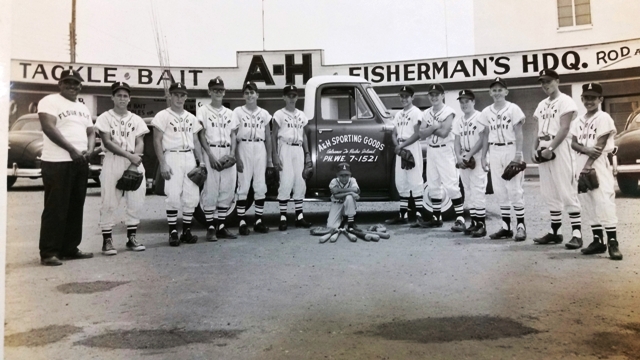 Photo of first baseball team (Bernie Arnold collection)
     Butch remembers a great deal about school, especially sports.  He played all the sports, but really enjoyed basketball.  "We played basketball all the time.  Sometimes we played in the Humble Camp.  Sometimes we'd sneak into the gym at school.  Mr. Wranosky finally gave us a key because he said he was tired of us breaking into the gym," Butch said.  "That's how we got so good.  We were short, so we had to be good shooters."
     According to a Caller-Times article when Butch was in high school, he averaged 15 to 16 points a game.  Coach Bud Gray was three inches taller than his tallest player.  Butch and his best friend Eddie were regular starters.  Reporter Jim McKone, author of the article, "Flour Bluff 'Shorties' Beat 14 of 19 Taller Foes," wrote: "Short but fast, the Flour Bluff Hornets have several dangerous scorers.  They average three or four inches below six feet.  But 5-10 Butch Roper and 5-4 Eddie Farrias are accomplished shooters."  All those times sneaking into the Flour Bluff gym evidently paid off.
     "There wasn't much to do in Flour Bluff for a kid other than play sports.  We had a wreck hall in the Humble Camp where we had gatherings with our families.  Sometimes we went to the show on the base.  It was a dime to get in.  We hunted and fished, too," Butch said.
     "We duck hunted all the time.  Granny would fix duck.  I didn't like duck, but she had a way of cooking it to make it taste better," said Butch.  "When we went duck hunting, we'd take our row boat and put in at the Humble docks.  Then, we'd row out into the water and build a blind out of Sweet Bay bush trees right on the boat, and we'd hunt out of the boat.  It worked great!"
     "I fished all the time with a fishing pole and usually fished with my grandfather.  We spent lots of time together – and caught lots of fish," Butch said proudly.
Butch's catch  (Photo from Butch Roper collection)
Be sure to pick up the next edition of The Texas Shoreline News to read Part II of Butch Roper's story.  To share his story with others online, visit https://texasshorelinenews.com/.
The editor welcomes all corrections or additions to the stories to assist in creating a clearer picture of the past.  Please contact the editor at [email protected] to submit a story about the early days of Flour Bluff.