[spacer height="20px"]
To preserve the rich history of Flour Bluff, The Paper Trail News will run historical pieces and personal accounts about the life and times of the people who have inhabited the Encinal Peninsula. The stories are gleaned from interviews of people who remember what it was like to live and work in Flour Bluff in the old days.  You won't want to miss a single one.
[spacer height="20px"]
[spacer height="20px"]
     When Miles Ray Graham was born in 1948, the Graham family had been living on the Encinal Peninsula for nearly fifty years.  His grandparents, Robert Ray and Emmie Graham, helped settle the area known as Flour Bluff.  His father, Tom Adair Graham, went on to become somewhat of a local celebrity as a cowboy and self-made businessman.  He and Mamie Grace Duncan raised five children on that piece of land.  Though Mamie died in 1939 at the young age of 39 and was buried in Duncan Cemetery in Flour Bluff, Tom forged ahead and continued to use his entrepreneurial spirit to tend to his family.
     "Dad's first wife was a Johnson," said Miles.  "It was from her family that they got the 60 acres on the corner of Graham Road and Flour Bluff Drive.  He sold one acre at the corner to the Degaish family and another acre to the O'Brien family just past where Cantera Estates sits today.  Dad owned the Cantera property, too.  My aunt, Ella Johnson Cowart, owned 50 acres south of the O'Briens'."
     Sometime in the 1930s, Miles Ray's mother, Martha Lenora (Lea) Johnson (no relation to the Johnsons of Flour Bluff), moved from El Reno, Oklahoma, to Houston.  She was married to Miles Everett Holloway.  Together they had three sons:  Miles Edward, Charles, and Roy (R.D.).  The couple parted ways, and times grew tough for the young, single mother. Lea left her boys in Houston while she traveled to Corpus Christi to find work.
     Lea found a job working as a waitress at the Degaish's restaurant.  There she met Tom Graham.  Tom and Lea were soon married, and he made sure Lea had her boys with her. They drove to Houston and brought the boys to live at the house at 1514 Flour Bluff Drive. Sadly, in 1945, Lea's oldest son, Miles Edward Holloway, lost his life in a hunting accident.  He was just sixteen years old.  The family and the community were devastated.
             [spacer height="20px"]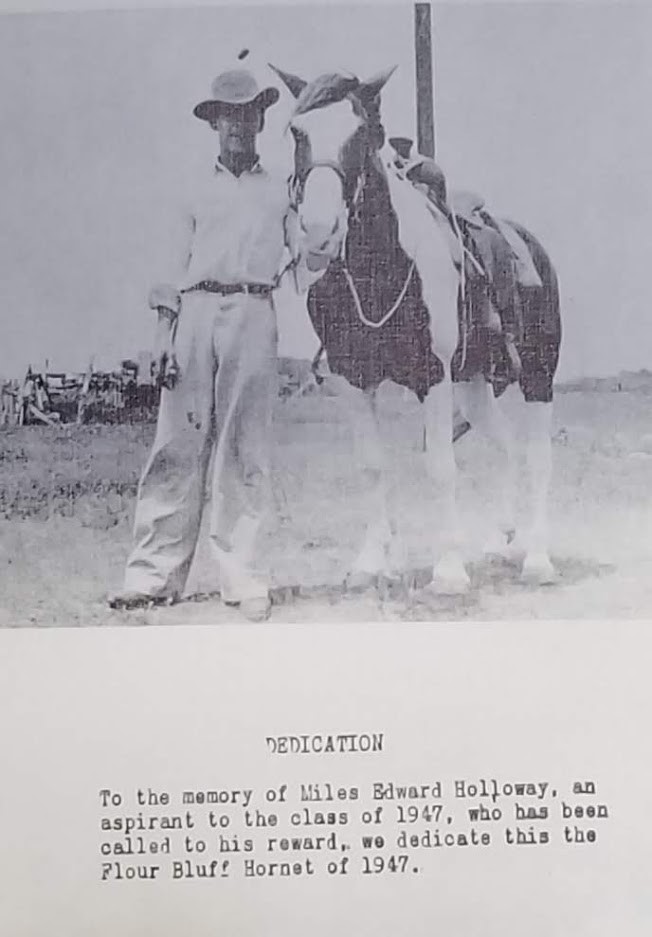 [spacer height="20px"]
[spacer height="20px"]                   [spacer height="20px"]
        Tom and Lea would have two children together.  First came Carol, Lea's only daughter.  Three years later, on September 22, 1948, they had a little boy, a boy named for a brother he never met. Even though Miles was the youngest of Tom's children living in a more modern era, he still lived in his father's world.
      "My father was a farmer/rancher and did construction work of various kinds as I was growing up.  From him I learned all I ever wanted to know about raising hogs, cattle, goats, horses, all manner of fowl, and just about any animal he might decide to bring to the place," Miles recalls.
    In the 1970s, Tom Graham temporarily housed two, 6-month-old African lionesses on his property.  He acquired them from an exotic game dealer named Dismukes who had a variety of wild creatures in his little "zoo" in the building where Da Beer Shack is today. Tom traded one to Kirk Nowlin for some work on his place.  Nowlin kept the lioness for a few months, taking gallons of outdated milk from the back of Eddie's Bluff Saveway and poaching deer on King Ranch to feed her until he gave her to the San Antonio Zoo.  Nowlin was often seen pulling the lioness around in a horse trailer that he converted to house and show her off to the neighborhood kids.
[spacer height="20px"]
"From time to time, we raised corn and watermelons, although not on an annual basis," said Miles.  "You haven't lived until you harvest watermelons in a Flour Bluff grass burr patch!"
Miles recalls working from a very young age alongside his father.  "We cleared land, leveled building sites, built roads, fences, buildings.  We also did considerable demolition work in Flour Bluff and south side Corpus Christi.  My father's theory of work was, 'If you haven't done it before, it's about time you learned.'  He was a really good man and knew failure could be a tough teacher, but not trying was never an option.  I learned how to operate several heavy machines under his training, without serious injury to anyone."
[spacer height="20px"]
[spacer height="20px"]
        "My mother had the patience of a saint and was there to support Dad and the family and feed the work crews coming and going," Miles added.  "I'm not sure she knew how to cook for less than ten people at any meal, and all my high school buddies were always happy to come by when Mom was frying chicken."
Sources:  In 1998-1999, Cassandra Self-Houston, great granddaughter of Florine Jeletich Self and John Self, conducted interviews of members of the first Flour Bluff families still living in Flour Bluff at that time.  The Graham story was gleaned from these interviews and multiple Corpus Christi Caller-Times, The Alice News, and Flour Bluff Sun articles written about Dr. Robert Graham and his family.  More specific dates and information came from cards and letters of family members and from interviews with Miles Graham and Sherry Holloway conducted in 2019.
______________________________________________
Be sure to follow The Paper Trail News to read stories from other longtime residents of Flour Bluff.
The editor welcomes all corrections or additions to the stories to assist in creating a clearer picture of the past.  Please contact the editor at [email protected] to submit a story about the early days of Flour Bluff.