[spacer height="20px"]
[spacer height="20px"]
     "I'm here to have a conversation with you.  I do not have a speech.  I am actually here to listen to you," said Corpus Christi City Manager Margie Rose to a group of about 30 citizens on February 9, 2017, at Ethel Eyerly Community Center in Flour Bluff.  "I want to hear whatever has been on your mind, something you think I need to be aware of or that needs to be checked out, something you don't like or something you do like.  This is your opportunity.  I didn't want you to have to come to City Hall; I wanted to come to you," Rose said.
     In a meeting that lasted almost an hour and a half, the people thanked Mrs. Rose for taking the time to listen to their concerns.  Many in attendance commended her and city staff for the recent improvements at Parker Park, the Vessel Turn-In Program, and especially the community conversations.  They addressed many issues of concern in their neighborhoods.  Some issues discussed were:
standing water in front of houses;
poor quality road patching
wastewater overflows in heavy rains;
issues surrounding flushing of water lines, such as standing water creating breeding grounds for mosquitoes, waste of good water, and finding ways to re-use the water instead of flushing it to the Oso, change of water treatment procedures, and use of free chlorine versus chloramines;
animal control officers asking citizens to trap strays and poor handling of animals that are picked up;
lack of training by those who clean the storm water ditches and break water and/or gas lines;
implementation of Litter Critter program in Flour Bluff;
no follow-up on Mustang Riding Stables picking up after the horses on the beach;
zoning problems for manufactured housing;
poor lighting on Flour Bluff Drive creating hazardous conditions;
consideration of red light on Flour Bluff Drive to allow cross traffic to move;
homeless and transient issues throughout Flour Bluff but especially in and around Parker Park and Ethel Eyerly Community Center and crimes being committed by this population.
     Mark Van Vleck addressed the water issues.  Flushing will continue for several months in order to fend off problems experienced due to over 1900 dead end mains.  One citizen asked that the city treat the ditch water to kill the mosquito larvae.  Another citizen, a chemist, requested information about what has changed in the way the city does its water treatment since – prior to the last three and a half months – flushing rarely occurred.  Assistant City Manager Mark Van Vleck explained that nothing has changed at the plant.
     "What has changed is the level of chloramines we want to keep.  We used to think a 1 was good.  The system is designed to handle about 200 million gallons of water per day.  Normally, around this time of year, we're around 80 to 85 million gallons a day.  This year we're down around 40, and during the really cold spell we were all the way down to 25.  What we're trying to do is pull it up so that we stay above a 2.  By the time (the water) gets here from Calallen, you've already got about 14 days of age on it.  That's why this area has a lot of flushing.  It's on the southern end of the system, so it behaves as a dead end.  The water goes in, and doesn't ever come back out.  There's a lot of flushing on the island right now, too, for the same reasons."  Van Vleck added that the EPA decided that free chlorine is bad for us, which is why the city has been using chloramines.
    Many in the group voiced concerns about being penalized for using water to irrigate lawns when the city is pumping it down the storm water drains, especially in a time of water restrictions.  Mr. Van Vleck explained that the city is no longer under the restriction, other than the time of day that watering may occur, after 6:00 p.m. and before 10:00 a.m. one day per week.  One citizens suggested that looping of the water take place if flushing is to be a long-term practice.  Mr. Van Vleck said the city did in the past near Quetzal in Turtle Cove.  He added that citizens can request to be part of the water reuse program to have water dumped on their lawns, with the acknowledgment that doing so could possibly damage property since it is applied with great force.
[spacer height="20px"]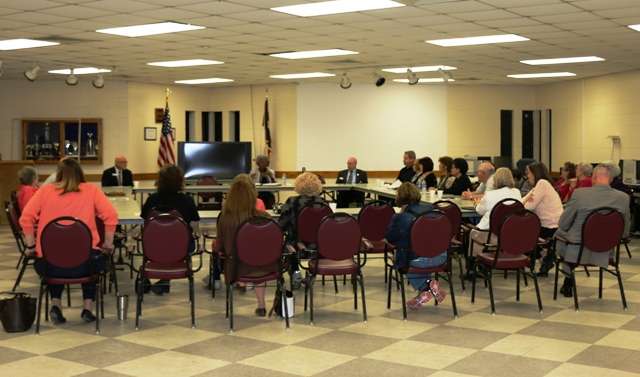 [spacer height="20px"]
    The meeting ended with Ruby Martinez, director of the programs for seniors at Ethel Eyerly, describing the homeless and transient activity she witnesses every day.  "The city is spending thousands of tax dollars – bond dollars – on this park, and it is going to be beautiful.  Now, you have to do something to keep it safe and make it usable by families and people who want to exercise here, play here, bring their families here for picnics and gatherings."  Most in the room were nodding in agreement.  Martinez suggested security officers and faster response times by CCPD when calls are made to report indecent or illegal behavior.
     Margie Rose thanked the group and assured everyone that she would get staff busy working on answers to the questions.  At the end of the meeting, she encouraged the citizens to fill out contact information forms and submit additional questions that did not get answered.